Albuquerque Birth Photographer- Isabel's Birth
I was anticipating my dear friend, Sarah, to go into labor for about a week. I knew toward the end that she was absolutely DONE. Don't we all feel that way? Like a minute is an hour and it's just dragging and dragging. We hung out with Sarah about everyday so we were both anticipating this.
Sarah was in a lot of pain most of her pregnancy, but mostly toward the end. Everything hurt and everything was aching. Little did we know, there was a reason why! (Read on)
Sarah's due date was August 17th. I told her to call me when contractions were 2-3 minutes apart, meaning she was in active labor (based on a few other things as well). I was on my toes waiting as August 16th approached. August 16th came and went. That night I put my phone on loud. I told Sarah to call me when she was in labor. Well, she texted me because she felt bad that it was the middle of the night. Her husband, Jordan, called me at 2:45am and said, "it's time!" I jumped up and was so excited. Contractions were a couple of minutes apart. I got dressed and rushed to Lovelace Womens Hospital.
When I arrived, it was about 3:15am and Sarah had just gotten her epidural. We sat and chatted while she progressed. During every contraction she got the shakes, so although she had the epidural, she knew when she was having a contraction and it was stop her in the middle of a sentence and she would shake and then continue.
Sarah progressed pretty quickly. at 4:35am she was at a 10 but the baby was still high. The nurses had her push so the baby could move down. The baby moved down after a few pushes and it was go time at 4:55am.
Sarah pushed her first baby only a couple of times and he was out, so she was expecting something similar. Well, Sarah felt defeated and just wanted her baby out after 10 minutes of pushing. Then 20 minutes went by and the exhaustion was setting in. After 30 minutes of pushing, sweet Isabel was born! Mama could rest, a little bit.
After Isabel was born, the eyes in the entire room got big. She was a larger baby than expected. No wonder her back was hurting and she was uncomfortbel in her pregnancy and it took a little longer than her first to come out. :-)
Isabel Rose Parks was born on August 17, 2016 at 5:27am weighing 8 pounds 8.8 ounces and 21.75 inches long.
Enjoy her birth story through these photos.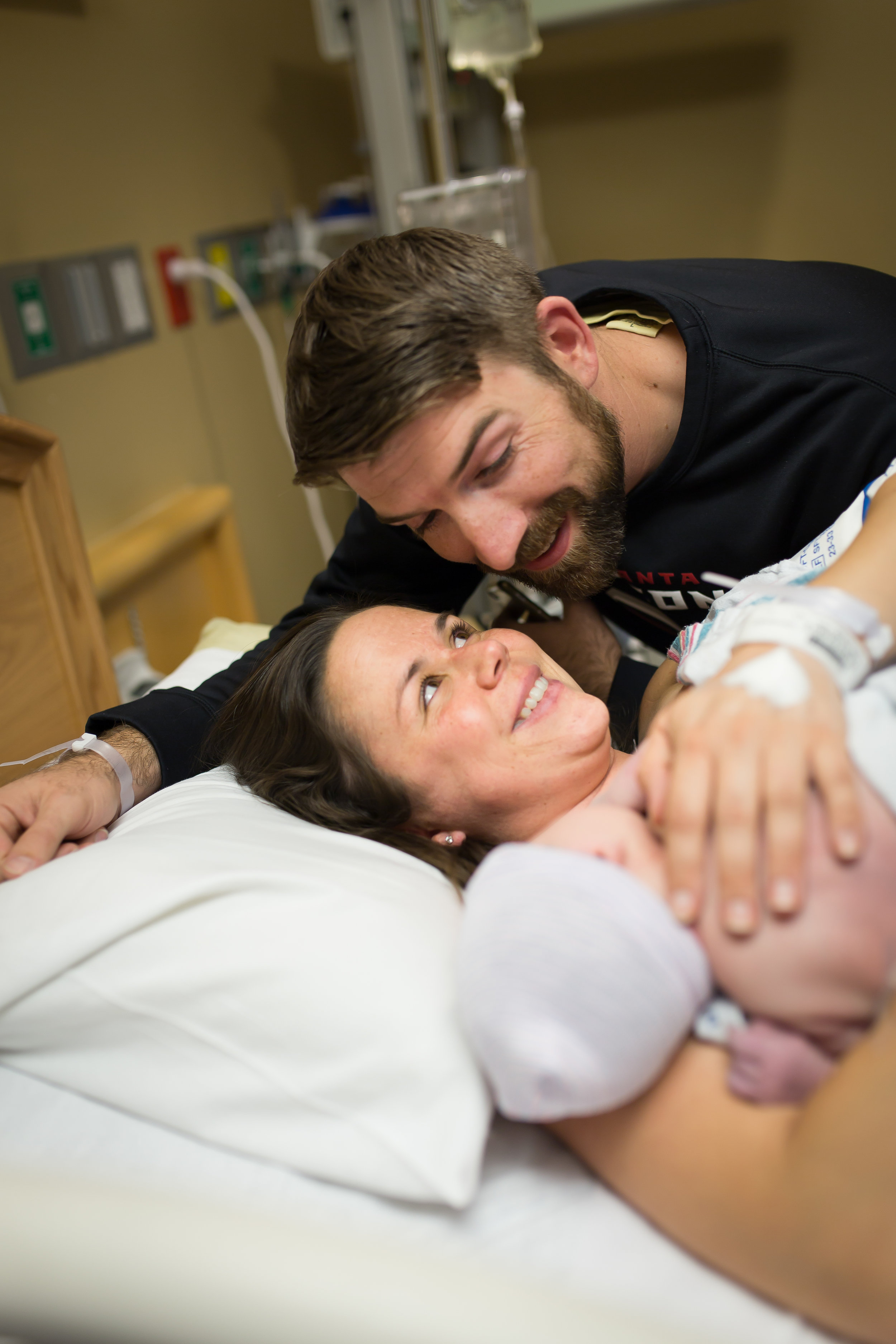 If you would like to book a Birth Session with Blooming Images, let's connect!